The Wednesday Weekly Whacky Award Goes To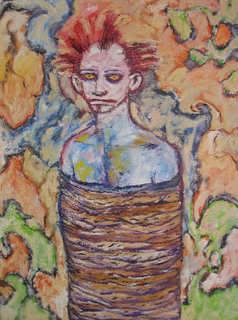 The SC&A Academy of Extremely Peculiar Pathologies, is pleased to announce this week's winners of the Weekly Wednesday Whackjob Awards, commonly referred to as the 'Whacky's.'
First, some fine print: nominations will open each week until 10:00 PM, EST (After the broadcast of House, M.D.
-sadly, now into summer reruns).
That's it for the fine print.
The directors of the SC&A Institute are pleased to announce this week's winners of the Whacky Awards are examples of nut jobs, whack jobs and people with way too much time on their hands.
This week's show is being broadcast from the lovely, frost bitten grounds of an unidentified
Psikhuska
, a Russian Psychiatric facility.
A Manual on Psychiatry for Dissidents
has proved to be popular reading for residents.
A 'Whacky' has been been awarded this week in each of the following categories:
The Thorazine Shuffle and Dance Award, presented each week to the politician who dances and shuffles without actually addressing reality or answering a question, is presented to former UN Envoy, Alvaro de Soto for blaming America, Israel, the Quartet and the UN itself for not facilitating the dysfunctional, racist, bigoted and corrupt Hamas government. According to de Soto
· The international boycott of the Palestinians, introduced after Hamas won elections last year, was "at best extremely short-sighted" and had "devastating consequences" for the Palestinian people

· Israel has adopted an "essentially rejectionist" stance towards the Palestinians.
Yes, western nations should be supporting racist and corrupt regimes that refuse to renounce violence and escalate bigotry.
As we have noted many times, Adolph Hitler too, was democratically elected. Had free European nations boycotted or even eliminated the Nazi leadership,
50 million lives would have been spared
. We are under no obligation to recognize or support any regime, even if democratically elected, that promises 'rivers of blood.'
We have also noted that the Nazis attempted to hide their evil intentions. Hamas cannot be bothered- and for good reason. The Nazi ideology was not fully known or understood by the Germans until after Hitler was in power. Hamas has never made a secret of it's ideologies and beliefs that have espoused hate, racism, bigotry and violence. The Palestinians that voted for Hamas knew exactly what and who they were voting for. They made very clear who and what they are, as do the Arab nations that support Hamas.
Not only does Israel have every right to reject Hamas, they are well within their rights to vigorously root out and eliminate those who threaten her very existence.
These realities apparently elude de Soto.
With 'diplomats' like Alvaro de Soto, it is no wonder the UN is irrelevant.
This week's Thomas Szasz Psychotherapy Award, presented each week to the biggest idiot therapists we can find, goes to the American Psychological Association (APA)
, for their self serving and bombastic response to the Virginia Tech shootings that left 32 students dead.
...APA's media relations staff referred psychologists to media outlets, with the goal of informing the public about topics such as trauma and trauma response; school safety; criminal behavior; evaluating dangerousness; and coping in the aftermath of the shootings. APA members appeared on dozens of media outlets, including CNN, "The Oprah Winfrey Show," National Public Radio, Time magazine and BBC Radio. Additionally, APA Practice Directorate Public Education Campaign Coordinators disseminated APA materials to community outlets and local media nationwide. In a related education campaign, APA Public Policy staff provided Virginia legislators with information on trauma, trauma response and resources.

APA used the Web to provide further assistance and information. APA's Practice Directorate public relations staff, with input from members, created a "Tip Sheet for College Students" dealing with the emotional effects of the shooting and another document offering stress-management tips for parents.
Perhaps there will come a day when the APA focuses on the rights of the community as opposed to the 'rights' that let killer Cho remain in the community at large. All the Oprah appearances in the world won't change the truth that the very disturbed Cho was allowed to roam free because of policies espoused by the APA. No amount of hugs, candles or choruses of Kumbaya can change that truth.
The
Valium Award,
presented to the dullard of the week goes to
the
London trash collector
clearly looking for some excitement in his life.
Smelly nappies (diapers- ed) turned out to be the source of a toxic poisoning scare which saw firefighters donning chemical protection suits after six binmen were overcome by fumes.


The incident in Seven Kings, East London, saw the binmen taken to hospital with watery eyes and sore throats after a bag broke during collection.
Clearly, these trash collectors have never changed diapers. We can testify to the toxicity of diapers worn by baby girls.

The
Trojan Award
is presented each week to the person or persons we wish had never been born. This week's award goes to
Humberto Rodriguez
.
A man who told police he bit the head off a rooster accepted a prosecution offer Monday to drop the case if he is not rearrested within the next six months. Humberto Rodriguez was arrested June 29, 2006, and charged with animal cruelty after a neighbor spotted the rooster's headless torso on the fire escape outside his Manhattan apartment...

The deal that Rodriguez accepted, called adjournment in contemplation of dismissal, means he does not have to enter a guilty or not guilty plea and if he is not arrested within the next six months his case will be dismissed...
Rodriguez is expected to comply with the court's deal. He started working at KFC on Monday.
The NutriSystem "I'm Not So disgusting to My Spouse Anymore"
Award
,
goes to the biggest loser of the week. This week, Sara White takes the prize.
What started as a case of cold feet for Sara White led to two nights in jail, a scorned fiancé and five dozen ticked-off cops.

Those are the results of White's cautionary tale, a two-hour drama that unfolded Monday morning after the 20-year-old Turlock woman claimed she had been kidnapped, police said. It was all a lie, White said, made up so she wouldn't have to go through with meeting a man behind her fiancé's back.

"Basically," White said in a telephone interview Thursday, "it was the only thing I could think of."

White had spent the past two weeks exchanging secretive phone conversations with a man named Fernando, whom she had met through a telephone hot line service. After speaking five times a day, the pair set up a meeting at a Sacramento park Monday.

But just before she was to leave for Sacramento, White changed her mind, realizing that her love for her fiancé was too strong.

So she called Fernando and told him she had been kidnapped while sitting in the park. Fernando called the police, who called White on her cell phone.

Over the next two hours, White began to spin what the police described as an elaborate story, beginning with the claim that she had been bonked on the head and dragged into the trunk of a car...

White said she feels terrible about misleading all those officers, of wasting what Young said were "thousands and thousands of dollars of resources."

"We told her to hang on, that we are going to save her," Young said. "And all this time she is sitting in her living room."

White said that if she could, she would drive to Sacramento and apologize to every officer who spent the morning looking for her. But she can't, she said, because she doesn't have a car and she doesn't have a driver's license.

And as for her engagement? She said she's talked things over with her fiancé, whom she declined to name, and that it's still on. The big day is planned for April.
Of course, she is sorry for the whole sordid affair. She
feels
so very badly.
As for her fiance, well, he is but another name in a long list of idiots.
The Haldol Honor, awarded each week to the person or persons most out of touch with reality, goes to the Kingdom of Saudi Arabia.
The construction boom in the desert nations of the Middle East has created a demand for raw materials, and the region has become a new export destination for Australian businesses.

Perth's GMA Garnet will this month send a shipment of heavy mineral sand to Saudi Arabia for sandblasting, a high-pressure technique to smooth and clean hard surfaces in buildings.

Yup, the Aussies are selling
sand
by the shipload to the Saudis. And they wonder why there aren't more Arab Nobel Prize winners.


The Methamphetamine Medal
, awarded each week to the most hyper, histrionic, hysterical, spaced out documented behavior goes to a
utility company
.
A New Zealand utility company that cut power to the home of a woman on an electric oxygen pump, allegedly leading to her death, insisted Thursday it was not aware she depended on the machine.





The family of Folole Muliaga accused the company of calling them liars over the incident Tuesday, when the 44-year-old mother of four died two hours after a contractor, working for state-owned Mercury Energy, cut power to the house over an unpaid bill for NZ$168.40 (about C$132).



The Viagra Statuette, (male or female), is awarded posthumously to a German train conductor who was killed in a 'Urination tragedy.'
Authorities now believe that a German train driver died after he opened a door to have a pee while the train was moving.


Officials began investigating after a train was stopped between stations in Berlin on May 31, as an electronic signal from its cabin alerted railway controllers that the train had no driver.

Drivers have to press a safety button - a 'dead man's switch' - at regular intervals, otherwise a computer on the train stops it automatically, and alerts authorities that there is a problem.


The driver was found dead with his trousers open by the side of tracks several hundred metres away from the train, and police now say that it appears he fell out of the locomotive after he opened a door to relieve himself from the train.

The train was travelling at 70 mph at the time.

What guy hasn't wanted to pee at 70 MPH?
The ECT Battery Award, presented to the most shocking news story of the week, goes to a veterinarian that beat up a 5 lb chihuahua.
A Sun City West veterinarian was arrested on suspicion of punching a five-pound Chihuahua five times in the head, temporarily blinding one eye of the dog.

Dr. Joshua Winston faces charges of animal cruelty and theft, according to a prepared statement from Maricopa County Sheriff's office.

...The dog needed corrective surgery after the incident, according to the statement.
The vet was assigned to his own crate in the Sun City pound. He will be kept isolated from the large numbers of chihuahuas that might seek to harm him.
Finally, The HRT (Hormone Replacement Therapy) Prize is awarded to the whiny Oakland City employees who believe that
The words "natural family," "marriage" and "union of a man and a woman" can be punished as "hate speech" in government workplaces..

The dispute began in January 2003, when the two Oakland employees created a subgroup at their workplace called the "Good News Employee Association." It was partly in response to a group of homosexual employees having formed their own group 10 months before and being given access to the city e-mail system. One e-mail, dated Oct. 11, 2002, invited city employees to participate in "National Coming-Out Day."

When several employees asked whether such a posting was legitimate city business, they got an e-mail from City Council member Danny Wan, reminding them that a "celebration of the gay/lesbian culture and movement" was part of the city's role to "celebrate diversity..."

A lesbian co-worker, Judith Jennings, spotted the flier and complained to the city attorney's office that it made her feel "targeted" and "excluded," according to a deposition. The flier was removed by a supervisor because it violated the city's anti-discrimination rules.

A U.S. District Court for Northern California ruling said the words "natural family" and "marriage" had "anti-homosexual import."
Can 'Bring Your Sex Toys To Work' Day' be far off?
Now while we're on the topic of crazy, be sure to visit the latest Dr Sanity Carnival Of The Insanities
for more bizarre, arcane, insane and incredible examples of what can be found in the whackosphere, blogosphere, MSM and NASA.

"
There is a thin line between genius and insanity. I have erased this line."- Oscar Levant