PMS, Jane Kosher And Lard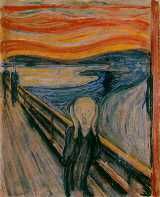 MHNN (Ann Arbor, MI)- The
Mental Health News Network
has learned that Pat M Santy (PMS), author of
Carnival Of The Insanities
and former NASA organic waste in space specialist received a frantic late night call from a prominent blogger and political consultant.
Dr Sanity agreed to meet with the blogger so as to keep what was clearly a potentially dangerous psychotic episode from escalating.
In order to preserve patient confidentiality and anonymity, we shall refer to the patient as Jane Kosher. Her blog will be know by the name Firedog Hydrant.
PMS- Why are you here this evening?
JK- F**k Joe Lieberman.
PMS- Excuse me?
JK- You heard me. F**K Joe Lieberman.
PMS- You are here at this hour because you hate Joe Lieberman.
JK- That's right.
PMS- Why do you hate Joe Lieberman?
JK- Because he got elected to the Senate.
PMS- And that's why you hate him?
JK- Yes. I wanted my guy to win.
PMS- Well, clearly the voters of Connecticut were more comfortable voting for Senator Lieberman over your guy, what's his name.
JK- Ned Lamont. If you got as much money as I did from Lamont, you'd remember his name too.
PMS- Yes, well, it seems the voters have spoken rather clearly.
JK- F**K the voters in Connecticut! I wanted my guy to win! I savaged Leiberman- I made sure 'Jew' Lieberman was never far from the surface. I still call him 'Pig Lieberman'- pretty funny, don't you think? I mean, he's an orthodox Jew and all that!
PMS- Did occur to you that maybe the people of Connecticut did not want to see their longtime Senator savaged so brutally? Besides being well liked, he did represent his constituents well for a very long time. He was also his party's nominee for Office of the Vice President of the United States. Surely that says something.
JK- I don't care what it says! I wanted my guy elected! Just how stupid are those idiots in Connecticut? Those idiots don't even have a sense of humor. I put up an image of Joe the Pig in black face and all I get is grief! I mean, what's so offensive about black face?
PMS- Well, there are a lot of people who take offense at those kind of things.
JK- F**k em. If they can't take a joke, to hell with em.
PMS- A lot of black people might be insulted by that.
JK- F**k em. If they can't take a joke, to hell with em. If there are blacks that don't see things like I do, to hell with them. They have no business thinking for themselves, anyway. That can't be allowed to happen. Look at Condaleeza Rice. She was the
provost
at Stanford!
The provost
! That's way past Affirmative Action. It was those kind of people who reelected Joe Lieberman.
(Kristy Larden walks into the room and sits down next to Jane Kosher. She says, 'George Bush is a criminal who will be indicted soon. He also stole the 2000 election in Florida. I'm a lawyer, I know these things.")
JK- Alright Kristy!
PMS- Ms Lard-
KL- That's Larden.
PMS- Sorry. Ms Larden, after the election in 2000, the New York Times did an investigative piece and declared that George Bush really did win the state of Florida.
KL- F**K the New York Times. They lied.
PMS- Why would they lie?
KL- Have you heard of the Jew York Times?
PMS- What?
KL- Never mind- that was a joke.
JK- Good one, Larden! Doc, you need to understand. As long as I maintain the position that Lieberman has got to go, I have a very real shot at helping Lamont lighten his load by relieving him of more of his money. You know how men are doc, when they think you are passionate about them, they can be plucked clean. Even if Lamont comes out from under the ether, I can help whoever else decides to run against Pig Lieberman.
PMS- So this is all about money?
KL- Pretty good doc, you figured it out.
JK- Well, there is more than money involved. I like being the Queen Bee.
PMS- Queen Bee? But your track record rivals that of Kos- whoever you support, ends up in the toilet.
KL- Bitch. So tell me, is Santy a Jewish name?
PMS- JK, why carry all this hate for so long? What good can come of it?
KL- Is she serious? You know Doc, you might qualify as legally insane. I'm a lawyer, I know these things.
JK- Doc, we're leftists. Hate is what we do. We're not finished with John Robert's kids, either. That ought to keep Elizabeth Edwards in line. She doesn't want us going after her ugly southern dumbass family. The time has come to teach that bitch to stay in line.
PMS- Ms Larden, I noticed you have finished with coloring book and crayons. I must say you really stayed within the lines. Why did you rip out so many pages?
KL- Because that bastard George Bush made me go outside the lines. That is a crime for which he will soon be charged. I'm a lawyer, I know these things.
PMS- OK, sure.
JK- Doc you need to understand. This is the role I've chosen for myself. Kristy is a part of the role.
KL- 'A part of the role'? What are you talking about?
JK- Kristy, listen up. You aren't the sharpest knife in the drawer. Remember during the Libby trial how you kept saying that lots of crimes had been committed and how mass arrests were imminent? Remember all that 'legal analysis'? Kristy, I love you but lets be honest- other than filling out forms, the law isn't exactly a strong suit of yours. Still, you do stick by me and get the proletariat all wired up. That counts for plenty in my book.
KL- When you put it that way, I feel good, like I', contributing something.
JK- Thank you, Kristy. Just so you know, if I need a lawyer I'm going to get a tribal referral from Joe Lieberman. I mean, Ned's a nice guy and all that, but would you take his advice?
KL- HAHAHAH!
PMS- Well, this has been interesting. Might I suggest you read
Carnival Of The Insanities
? You'll feel better, I promise.
(Kristy Larden leaves the room. Jane Kosher whispers to Dr Sanity. "Tell Joe he really is a nice guy and I'm only in this for the money. If that bastard Kos can make money, so can I.")