Confessions Of A Little Man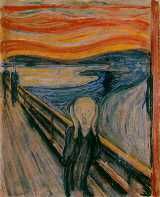 MHNN (Ann Arbor, MI)- Reliable sources have told the Mental Health News Network (MHNN) that moments after Iranian President Mahmoud Ahmadenijad concluded his remarks at Columbia University in New York, a call was made to psychiatrist Patricia M Santy of Ann Arbor, She is also the author of
Carnival Of The Insanities,
the vital link to mental health for millions.
Since the former NASA flight surgeon and organic waste in space specialist left the space agency, she has become a renowned therapist to world political figures and other notables. She has
led group sessions
with Middle East dictators,
Osama bin Laden
and presidential candidate
Hillary Clinton
.
Sources say Dr Sanity was contacted because the Iranian president threw a temper tantrum in the limousine after his remarks about there being 'no gays in Iran' elicited laughter from Ahmadenijad's entourage in addition to laughs from the audience in attendance. According to those sources, the Iranian president had worked himself into a frenzy when the call was made to Dr Sanity.
What follows is a redacted transcript (due to privacy concerns) of Dr Sanity's session with Mahmoud Ahmadenijad.
MA- Hello. Am I taller than you imagined?
PMS- No. We aren't really here to talk about your height, are we?
MA- I like tall women. Would you like to visit my country and speak to the
Revolutionary Guard Psychiatric Services
?
PMS- We'll see. What brought you here today?
MA- They laughed at me. Do you think they laughed because I'm short?
PMS- Probably not.
MA- Tom Cruise is short, too. They never laugh at him. Do you think they laughed at me because I'm Iranian or Muslim? Why doesn't anyone ever laugh at Mother Teresa? She was short.
PMS- Maybe the Columbia audience and your entourage laughed because of something you said.
MA- You're referring to my remarks about no gays in Iran.
PMS- Yes.
MA- I thought so.
PMS- Mr President, are you gay?
MA- What? What did you just say?
PMS- I asked you if you were gay.
MA- I could have you shot for that remark.
PMS- Well?
MA- Do we have to talk about this? Why can't we talk about the
Revolutionary Guard University of Flower Arranging and Hair Styling?
We have lots of universities in my country.
PMS- Well?
MA- Look, you tall American bitch, what do you think? Have you ever seen pictures of me with my wife and kids? I wear a three day beard too look manly. The only photos in which I'm smiling are the ones with me hugging and kissing other male dictators. I wear elevator shoes and make up rules about not getting close to other women.
PMS- So why did you say there are no gays in Iran?
MA- Because the minute I admit to gays in Iran, the entire nation will engage in collective laughter and point their ugly non manicured fingers at me, '
Mahmoud the 'Mo
' or the '
Persian Prick.
' Do you get the picture now, you infidel idiot?
PMS- Actually, I think people might refer to you as the 'Puny Persian Prick.' You could ignore the remarks.
MA- Sure. That makes sense. And as soon as the foreign media finds out that I like to wear Isaac Mizrahi in my down time and photographs me in vertical stripes and pumps, I'd be the laughingstock of the nation. Do you have how hard it is to deal with the short guy, small feet and small hands jokes? If I admitted that there was even a remote possibility that I might be gay, do you have any idea how many people I'd have to have executed?
PMS- You seem overly agitated.
MA- I'm agitated because Mizrahi is a Jew. If you were me, you'd be agitated, too. You know, if Vera Wang had any taste, I'd be wearing her fall collection- but noooo, Mizrahi has me hooked. Damn Jews.
PMS- Do you have any close, uh, 'friends'?
MA- Not really. I have a hard time with my personal relationships. Could you introduce me to Harvey Firestein or Nathan Lane? You must know them, they're famous.
PMS- They are also Jewish.
MA- They are?
PMS- Yes.
MA- Damn Jewish bastards! They have everything I want!
PMS- What's with you and David Duke?
MA- Well, he's pretty cute- and blond! When we're together he puts on those leather pants and see through leather vest, well, that really gets my Persian blood boiling! We have this game we lay, called 'beat the Jew.' He likes that game a lot.
PMS- Do you like the game?
MA- A blond white guy taking an interest in a guy like me? That's heaven, baby! Hell, I'd let him beat my mother!
PMS- Well, our time is up for today. You know, we've barely scratched the surface.
MA- I know. Maybe we can do this again. Is there a
Fredrick's
around here? I need new garters. There is something very naughty about wearing garters under an Isaac Mizrahi outfit, you know?
PMS- No, I don't know. I'd like you to do something for me.
MA- Can I do it in the nude, wearing just garters?
PMS- Yes. I want you to read Carnival Of The Insanities. Think of this week's edition as your own personal on ramp to sanity.