WD40, Presidential Campaigns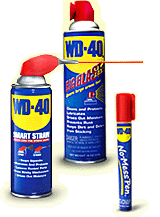 There are at least 2000 things you can do with WD40.
Here is the official list
.
There is even a WD40 Fan Club!
Sign up here
.
MHNN
(Mental Health News Network)
has learned that Clinton, Obama, Romney, McCain and Huckabee campaigns are involved in feverish research to see if WD40 can help their respective campaigns.
Former candidate Dennis Kucinich has announced that he knows for a fact WD40 would be a powerful to asset any presidential campaign. When asked if he would pass on what he has learned, Kucinich insisted that the aliens aboard the UFO to which he was teleported warned him against sharing his new found knowledge.