Sanity's Treasure
Please joi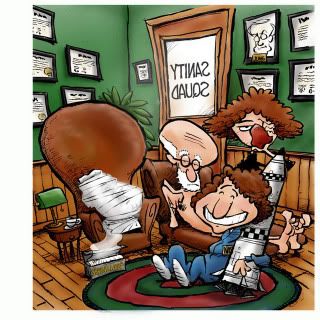 n
Dr. Sanity
,
Shrinkwrapped
,
Neo
and ourselves for tonight's
Sanity Squad Podcast
.
TONIGHT'S SHOW BEGINS AT 7:30 PM
Our topics for the evening will include the impending civil war in Lebanon and the extraordinary events surrounding the
inaction
in Myanmar.
We were going to discuss the locations of the Lost Dutchman Mine, King Solomon's Mines and Bl;ackbeard's lost treasure, but we did not want to bore you with talk of riches beyond your wildest dreams.
The call in number is is
(646) 716-9116
. Showtime is a 7:30 PM tonight.
The podcast and chatroom can be accessed from the
Sanity Squad homepage
.
Remember, there is no crying in baseball or podcasts.